2003 La Côte Rousse, Syrah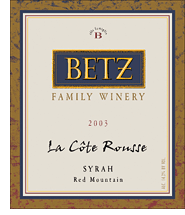 It took us until 2003, but we finally achieved a long range goal for our Syrah La Côte Rousse, uniting the Syrah grapes from the two founders of Red Mountain, Scott Williams of Kiona Vineyard and Jim Holmes of Ciel du Cheval Vineyard. These two, along with Scott's dad, John Williams, made an uncommon commitment to the untested sagebrush slopes of Red Mountain back in the early '70s. In a short 30 years this area has become one of America's most respected appellations.

And justifiably so. The red wines made from the Red Mountain fruit are dense blockbusters, jammed with fruit essence and richness, and capable of some of the longest cellaring of any Washington reds.

Syrah La Côte Rousse has always been made from Scott's stunning Syrah, but, like all good things, it's limited. Jim Holmes' grapes have been used to craft some of the headiest Syrahs in Washington, but have never been available to us. Until now. The 2003 vintage is 60% from Scott's vineyard and 40% from Jim's.

And the blend met our expectations. It has the deepest black red color we've yet achieved with Syrah. There are profound blackberry, black cherry aromas, pure and penetrating. Syrah emerges as a roasted meat, violet, spice concerto that carries across to the flavor. Despite classic Red Mountain tannin levels everything is in remarkable harmony, with a fleshy, plump richness balanced by a notable spine of structure. With its concentration, verve and structure this one should do well in the cellar for many years.

Blending Detail and Aging Profile
Blending Detail:
AVA & Vineyard Detail:
Red Mountain
60% Kiona Vineyard
40% Ciel du Cheval Vineyard
​Case Production: