2002 Père de Famille,
Cabernet Sauvignon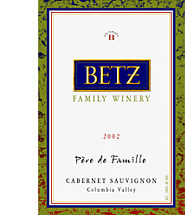 We added Malbec to this blend in 2002. One of the lesser known Bordeaux varieties, Malbec has emerged this past decade as a serious performer in Washington's Columbia Valley, its black-skin adding plenty of complexity to our wines. While it's only 6% of this blend, Malbec added juiciness and notes of sweet blackberry and camphor; without it the 2002 Père de Famille would simply be less complete. We source Malbec from the Alder Ridge Vineyard, thinning the clusters to a maximum 3 tons/acre yield.

Yet the core of the 2002 Père de Famille is still Cabernet Sauvignon (77%). Fruit from the Red Mountain vineyards, Ciel du Cheval and Klipsun, dominate the blend with their power and depth. Other Cabernet Sauvignon grapes in the blend came from the Alder Ridge Vineyard bringing length and elegance, and the Boushey Vineyard contributing a bright, gentle fruitiness. Rounding out the wine were a few barrels of Merlot (17%) from both Alder Ridge and Ciel du Cheval.

The 2002 is one of the deepest colored Cabernets we've made. Its dense red black core has a hint of purple to the edge. The aroma is expansive black fruits: currants, cherries, and blackberries, with a sprinkling of Asian spice. But this vintage is all about mouthfeel: it enters broad and powerful, with plenty of supple, silky fruit. Flavors are also black fruit dominant, with black cherry playing the major role, while notes of plum and dried orange peel play around the edge.

It's already enjoyable, yet three to ten years in the cellar should further expand its complex aroma and flavor.